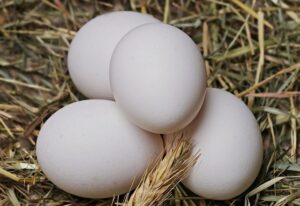 An infestation of uninvited fae can be a nuisance and whilst I absolutely do not think you should go round wantonly banishing the good folk there are times when posting up a magickal "Trespassers will be prosecuted" sign is really handy. The problem is, once you start working with them, they do like to invite their friends. A great and very cheap way of popping up that sign is with Cascarilla, a.k.a ground eggshells. Although I have been using it for some years and was taught it as hoodoo/folk magic skill, I've not seen it in mainstream western practises until quite recently, which surprises me because there is a considerable amount of lore surrounding it – especially with the Fae, so let's have a look.
In German, French, Polish, Irish, Welsh and English folklore stories can be found where a wily human gets rid of a faery problem using eggshells. Brewing with eggshells to confuse a changeling enough to trick it into revealing its true nature is very common as is cooking in eggshells, the poet W.B Yeats recants the woeful tale of Mrs Sullivan who upon suspecting that her child was in fact a Faerie goes through the motion of cooking a meal for all the reapers in the field in just a single egg shell.
The Welsh folklorist John Rhys, tells two distinct tales of mothers who believing that their children have been whisked away by the Benith y Mamau (the mothers blessings) attempt to bake using only eggshells again to trick the changeling into revealing themselves and the prolific folklorist Evan Wentz retells a number of Breton tales where water is boiled in shells roasting before the fire thus causing a faery to cry out, 'I have seen the acorn before the oak; I have seen the egg before the chicken: I have never seen the equal to this.'*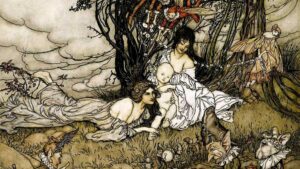 There are literally dozens of tales with variations on this same egg theme, and the words the faery speaks are so similar that when I discovered it I felt it necessary to do some digging to try and find the source. I've found all sort of suggestions to the origins of the eggshell theory, some think that the original source is the 16th century writer Reginald Scot who explained that this connection to the Fae is because both Faeries and Witches can, "saile in an egge shell, a cockle or muscle shell, through and under the tempestuous seas."
Wirt Sykes* another welsh folklorist claimed that he could trace the origins of the egg shell story back to 7th Century Gaul, however the general use of eggshells in magic can be traced even further still. In the 1st century C.E. the Roman historian Pliny waxed lyrical about the medicinal and magical properties of eggs stating that people would immediately break or pierce the shells of eggs with a spoon after eating them to ward off evil spells. Eggshells were also part of "demon traps" found in middle eastern countries to disarm unwanted spirits, and sometimes, whole eggs were placed at the threshold to appease the threshold guardians specifically Hekate, who unsurprisingly is linked very closely with the Fae. 
This practise is old, old, old and whichever way you look at it eggshells are faery kryptonite. 
So why wouldn't we use this resource in our regular ritual practises? It's very simple, wash your shells out and peel out the membrane whilst they are still 'moist' and then either bake them and grind them to create brown cascarillia or just let them dry and grind them to make white. I've yet to find a definite answer as to why you would use one type over another but as so many of the traditional tales involve cooking with, roasting or heating eggshells as part of the banishing ritual I tend to make the brown kind. The uses are endless bathe in it to cleanse yourself of any unwanted influences from the spirit realm (including rude Fae), place it along your doors and window sills to keep the grobblies out of your home and even place it around your boundaries on your property to aid in your magical shielding. It doesn't hurt to carry a little sachet of it in your witchy napsack when your out hunting fae either.
Finally I am always up for a good chant when I do this kind of work, and Wirt Sykes very cleverly worked out that the Welsh and the Breton of the words that the Fae speak when they are outed makes a very pleasing rhyme.
'I have seen the acorn before I saw the oak: I have seen the egg before I saw the white hen: I have never seen the like of this.'

'Gweliz mez ken gwelet derven,

Gweliz vi ken gwelet iar wenn,

Erioez ne wiliz evelhenn'
Let's face it the Welsh is way cooler and sounds nice and arcane, really adds to the ambience.
---
*Evans-Wentz, W. Y. (Walter Yeeling), 1878-1965. The Fairy-Faith in Celtic Countries (pp. 127-128). HardPress Publishing. Kindle Edition.
* Wirt Sikes. British Goblins: Welsh Folk-Lore, Fairy Mythology, Legends and Traditions (p. 54). Organization. Kindle Edition.