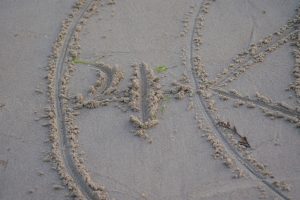 Ive just spent a lovely half hour walking my mothers dog. We wandered down to the pebbly beach and I collected hagstones, an item of great worth in my work with the fae. It's an amazing beach, it is probably one of the most bountiful in its provision of holed and unusual stones that I have ever come across. Just a few minutes will yield a pocket full of stones. Most of which I return at the end of my stay. Although sometimes, just sometimes the odd one makes it way permanently into my life. It's a very special place, its seen me snuggled under a duvet watching the stars with what was then my soon to be husband. It comforted me as I howled at the moon whilst grieving the loss of my father. It welcomed my small daughter summer after summer, watching her grow into a strong and independent woman. In short, it is personally one of the most sacred places in the world as far as I am concerned.
Sacred doesn't have to mean a long archeological provenance. It neednt be a place of worship. Nor do the Ancestors, Guardians, Old or Mighty Ones have to be involved. No magickal beings have to be in evidence. Although in reality I tend to find they seem to crawl out of the woodwork (quite literally) once you acknowledge the hallowed nature of a place. It's actually why I tend not to cast a circle at all outdoors. I don't banish. I work in harmony with the energies of the place. It's why choosing your ritual locations is quite important. Picking a spot because its easy to get to, infamous or just because you are curious about it isnt' always going to give you the results you expect.
I live within a 40 minute drive of the near legendary Alderley Edge, well known by certain initiatory Wiccans and practitioners of several Trad craft lineages. Ive tried working formal magick there. Normally with others who think it would be really cool "Coz witches do stuff there" ! Ive stood back as they have cast a circle or bellowed out an LBRP*. And Ive felt the place close down, it feels thick and muddy, and I can sense this treacle like sensation spread out into the woods which then fall eerily silent and still. But equally I have sat very quietly against the trunk of one of the giant beech trees that line the route to Stormy Point. Letting the darkness creep in around me. Ive listened to people congregating at the Druids circle totally oblivious to the Magick (and the magickal people) going on around them. Ive regularly seen a Goat like figure wander along the pathways. Stop to observe me, bow its head in acknowledgement before silently moving on. At that moment the whole place is overwhelmingly sacred. But because I am in communion with it.
This doesn't mean that you cannot practise formal ritual in chosen places of power. It means that a relationship has to be built. Permission has to be given. Experiences shared. My beach has seen me invoking the planetary powers, at sunset and sunrise. Long formal Orphic hymns used as the invocations. A circle scratched in the sand with the planetary symbols etched around its circumference. A rite of balancing and growth. Considering the history I have with the place it was the 'only' location right for the ritual. The Ocean has silently observed my passing years. Whilst to it my existence is but a blink of an eye, it knows me, it knows my energy. And that is the key.
*Lesser Banishing Ritual of the Pentagram